Back to School Online Resources
By Millie Huang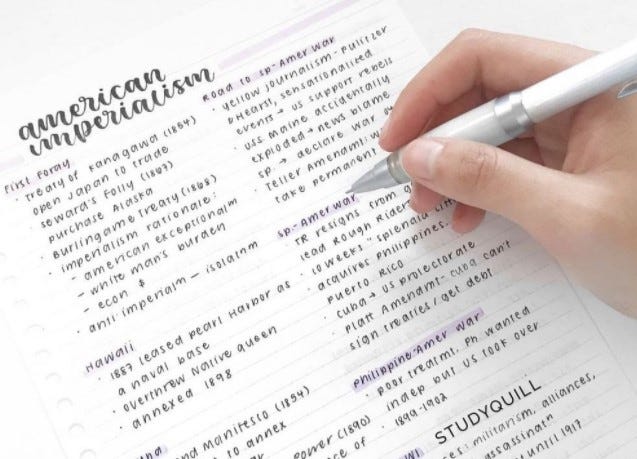 Photo Credit: Studyquill
Summer vacation has come to an end after weeks of relaxation. Many of you have already received your schedules, bought new school supplies, or prepared for certain classes. Perhaps you are thrilled by the idea of seeing your friends in class or learning new subjects. However, it is also not uncommon for students to experience stress or anxiety in face of a new school year. In fact, we are often forced to cope with receiving good grades, harsh teachers, overloaded schedules, and more obstacles throughout the school year. Too much pressure can become too overwhelming for all students to handle. Although there is no simple solution to facing the harsh realities of a new school year, the Internet has proved itself to be a valuable resource in alleviating students' academic fears. Below I have compiled a list of free online resources — all of which have helped me through high school — to help you overcome these common academic struggles. Best of luck!
1. Khan Academy
A popular resource for self-studying in school, Khan Academy was created in 2008 by Salman Khan to educate students across multiple subjects. Since then, this organization has implemented a variety of courses to cater to users' needs: SAT preparation, AP coursework, personal finance skills, and more. Personally, I have been intrigued by its computer programming lessons in HTML/CSS and Javascript. Because Khan Academy introduces basic programming at an accessible level, others are inspired to pursue technology. In school, using Khan Academy is not limited to computer programming — feel free to hone your academic skills in tough classes like calculus, chemistry, physics, and so on.
2. Sparknotes
Sparknotes is often associated with students who forget assigned reading from school. However, this useful online resource is more than what meets the public eye. Although it is widely regarded for its extensive book summaries, many people overlook Sparknotes's detailed academic notes on other subjects like history, chemistry, and even computer science. If you want to delve into programming, this easily accessible resource introduces important topics like recursion, sorting or arrays in a concise manner.
3. Crash Course
https://www.youtube.com/channel/UCX6b17PVsYBQ0ip5gyeme-Q
Are you a visual learner? If so, the acclaimed Youtube channel Crash Course is for you. Its videos use simple but resourceful animations and explanations to elaborate on more than a thousand episodes of subjects. In less than twenty minutes, students who use Crash Course can not only utilize their time wisely but fully understand school material. My personal favorite series is its introduction to artificial intelligence because the videos are so well thought out in its creation. I specifically learned much about natural language processing, a topic I previously thought was too difficult for me to understand. Through Crash Course, I could expand on my passion for artificial intelligence in a matter of minutes. The link to the Youtube playlist can be accessed here.
Computer Science Related Resources for Self-Studying:
1. Coursera http://coursera.com
2. Coding Bat (practice Python and Java!) http://codingbat.com
3. Udemy http://udemy.com
4. Free Code Camp http://freecodecamp.com
5. Allgirlithm (join our programs!) http://allgirlithm.org
BONUS: Toby Google Chrome Extension
https://chrome.google.com/webstore/detail/toby-for-chrome/hddnkoipeenegfoeaoibdmnaalmgkpip?hl=en
It may be difficult to keep track of online resources, especially websites for the new school year. So, I would like to suggest Toby, a Google Chrome extension that organizes students' tabs to bolster accessibility and efficiency. Simply implement this extension from the Chrome web store to remember important tasks for all academic courses! Considering that most schools are relying on virtual learning this year, Toby proves to be an essential resource to boost productivity.